LAUW's current hot products
The London Australia Underwriting team had an enjoyable few days attending the 34th annual 2016 NIBA Convention in Melbourne as an exhibitor.
Thank you to all the brokers who stopped by to say hello and we look forward to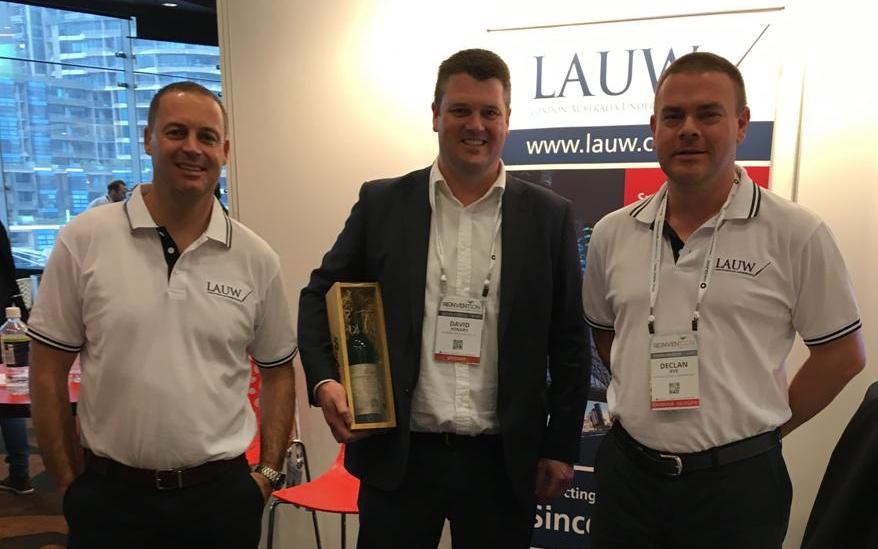 providing further positive outcomes in the future.
Congratulations to all our prize winners, particularly David Hendry from McKenzie Ross who won first prize of an excellent bottle of red wine.
David is flanked by LAUW directors Steve Walker and Declan Rye.
LAUW's current hot products
Miscellaneous and media professional indemnity
Professional indemnity demand from the miscellaneous and media sectors continues to grow, due to a combination of improved rates and more accommodating policy coverage. The SME space has been particularly positive in its uptake and long may that continue.
For more information, please contact a member of our underwriting team.
IT liability – ComTech
Last May, LAUW released its highly anticipated IT liability product and it has been a big hit with the market.
The ability to combine PI, GL and cyber coverage under one roof is a clear winner. Obviously brokers value the broad coverage, including liquidated damages and contractual liability, along with genuine first party cyber cover.
The appetite is wide and varied and includes software businesses, hardware-related activities, IT consultancies, telecommunications, and innovative developments.
For more information on ComTech, click here or contact our underwriting team.
Management liability
While the management liability (ML) market has demonstrated volatility in recent times, the LAUW team continues to offer consistency in coverage, pricing and appetite.
ML is one of our fastest growing sectors of the overall book and showing no signs of slipping.
We continue to seek new ML opportunities. For more information, please contact our underwriting team.
News Alert October 2016